The Multi-Cultural Motion Picture Association has Nominated Dante Sears, Dante TV Founder, as an Honoree for the 8th Annual Diamond Rose Awards Lady in Red Honoree.  The event takes place Sunday, November 13 at 4PM in Beverly Hills at the luxuriously exclusive Peninsula Hotel.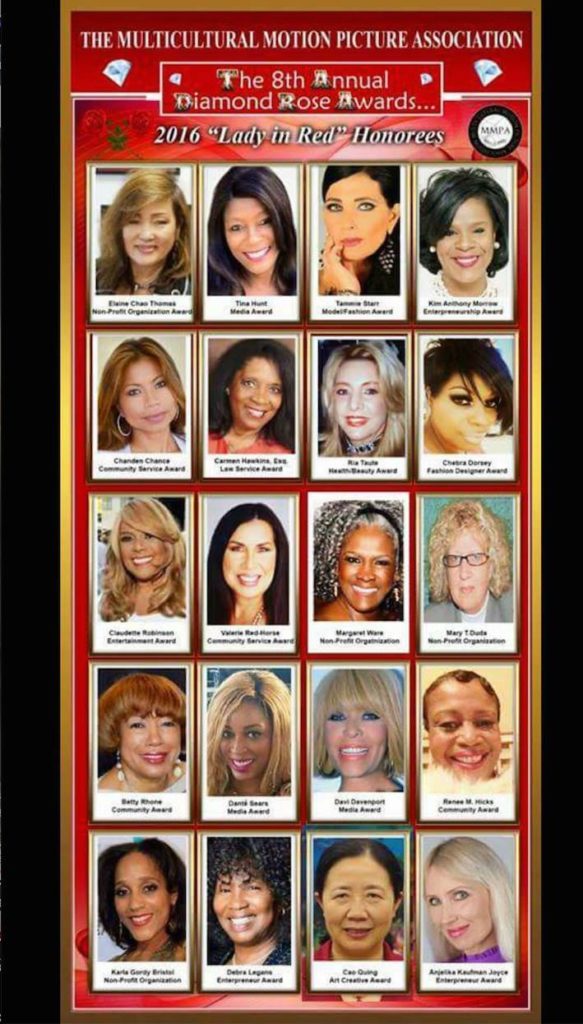 The following excerpt is from MMPA President Jarvee Hutcherson's Facebook Announcement.
It was announced Monday, October 24th from the Multicultural Motion Picture Association (MMPA) headquarters office by Jarvee Hutcherson, President or the MMPA will present it's 8th Annual Diamond Rose Awards 2016 Soirée …. "Lady In Red" to be held, Sunday, November 13th, 4PM at the Peninsula Beverly Hills in the Verandah Room and Terrace.  

The MMPA will recognize these ladies for their outstanding contributions in the various fields of Entertainment, Non-Profit Organizations, Media, Law, Community Service, Health, Fashions, Entrepreneurship, Media, and the Arts.

The evening will consist of a three course dinner, entertainment, awards presentation, and the official gift bags. The evening will benefit the MMPA Educational Scholarship Fund and Stand Up For Cancer. Tickets are on sale now for this wonderful evening as we celebrate "The Lady In Red"… We look forward to you joining us on the "Red Carpet"
The Lady in Red Soiree will be a night to remember, with beautiful accomplished women all wearing red gowns in a luxury atmosphere with inspirational talks and speeches, delightful entertainment, gourmet entrees, and pouring champagne in a graciously appointed luxurious Beverly Hills hotel setting. The Peninsula is a diamond of a gem destination in Beverly Hills. Come enjoy an evening of recognition, celebration, and ocular indulgence.
Dante Sears is nominated for the Media Award for her contributions to social issues via Dante TV. This year's nominees include Celebrity Real Estate Power Couple's Anjelika Joyce, TV Host Davi Davenport, and Nasa Scientist linked Artist Mary T. Duda of Duda Art Gallery.
MMPA has previously honored amazing talents and celebrities like Dr. Cherilyn Lee (Michael Jackson's Nurse), Whoopie Goldberg, Oprah Winfrey, Halle Berry, Denzel Washinton, and Denise O-Brien with their Diversity Awards.
For ticket sales, contact us.
#eZWay #DanteSears #MMPA #LadyinRed